Enabling the delivery of healthcare
Better care Through Pictures
arcc® is the image-based platform with integrated applications that provide every specialist throughout the health system the ability to view the Comprehensive Health Record.
Apollo affects real change for clinicians, IT personnel and patients by providing specialty workflows within the arcc platform's advanced user experience.
For over 25 years, Apollo has led the market in developing the next generation of collaboration tools. We develop our solutions by refining our systems to meet the individual needs of each customer and each customer's users.
Apollo is consistently at the forefront of addressing the turbulent healthcare market driving standards that other companies follow.
Apollo Makes The Difference
By adding arcc, Apollo transforms the Electronic Health Record (EHR) into the comprehensive strategic healthcare enterprise resource. Using Apollo's workflow solutions, healthcare providers can ensure patient safety, clinical content interoperability, and most importantly, universal and immediate access to the entire health record including all imaging studies.
Our forward-thinking workflow solutions have been developed from the perspective of the clinical departments' and patients' needs for real-time healthcare delivery. We bridge the gap between clinical specialties with the most comprehensive enterprise imaging platform proven and available in the market today.
Apollo partners with each customer to build on their institution's reputational excellence and economic efficiency. We provide "cutting-edge", referenceable solutions to meet each customer's specific needs. Our solution empowers healthcare organizations to incorporate an Enterprise Imaging Strategy that significantly and positively impacts the patient continuum of care, ease of IT management and positive ROI.
certified quality management
Apollo holds MDSAP and ISO 13485 certifications for quality management systems bringing confidence to our customers that Apollo solutions are developed under stringent standards of quality. We maintain these certifications so our customers have confidence in the reliability of our solutions.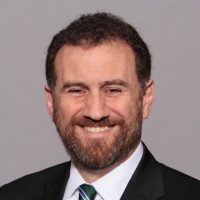 Founder, President & CEO
Mark Newburger
Mark Newburger is Founder, President, and CEO of Apollo. Newburger has over 35 years of experience in the clinical multimedia and healthcare informatics markets. After a decade working at an educational software company and then a telemedicine company, Newburger founded Apollo. As the company's founder, he has grown Apollo from a two-person telepathology systems integrator over 25 years ago into a recognized leader in the enterprise imaging market. Newburger has chaired the vendor task group for the standards committee of the Association for Pathology Informatics and was a member of the CAP Advisory panel for DICOM Standards in Pathology which led to the expansion of DICOM into visible light standard development. He is currently a member of the HIMSS-SIIM Enterprise Imaging Workgroup and was previously co-chair of the HIMSS-SIIM Enterprise Imaging Maturity Model Sub-Workgroup.
Chief Technology Officer
Jeff Mabus
Jeff Mabus is Co-Founder and Chief Technology Officer of Apollo. As CTO, he oversees software development, Client Services, and customer support at Apollo. Mabus has over 30 years' experience in healthcare information technology development, deployments and implementations. His strong service-oriented approach promotes customer success. With special emphasis in clinical workflow, telehealth system integration and HIT interoperability, Mabus is considered one of the preeminent experts in Enterprise Imaging interoperability.
Executive Vice President - Sales
Kevin Stinson
Kevin Stinson is Apollo's Chief Revenue Officer. Stinson is responsible for all sales and marketing activities. As a customer-focused Enterprise Imaging specialist, he supports Apollo's culture of customer success that builds strong, satisfied customer relationships starting with first contact by sales and marketing. Stinson joined Apollo as Executive Vice President - Sales with over 20 years' experience enabling strong customer relationships. His medical informatics background supports his ability to seek out and supply solutions to work with customers and solve their needs. Most recently, Stinson served as an Imaging Solutions Sales Executive at Change Healthcare.
Chief Quality and Administration Officer
Lisa Haas
Lisa Haas is Apollo's Chief Quality and Administration Officer. In this role, Haas serves as the functional head of quality for the company overseeing quality assurance, the company's Quality Management System (QMS) and managing the total regulatory compliance function. Haas oversees Apollo's QMS to ensure that the organization's products and services meet the highest standards. She ensures the QMS remains effective and current through regular audits and continuous process improvement that integrates quality practices throughout the organization. In addition, she is responsible for all corporate administrative activities and some marketing functions.
Haas joined Apollo in 2008 with over 10 years' experience in corporate public relations and customer service management having previously served as the manager of Fannie Mae's Consumer Resource Center.
Apollo is a healthcare IT company that delivers quality Enterprise Imaging solutions which address both clinical multimedia workflow management and vendor neutral archive (VNA) requirements.
Founded in 1993, Apollo provided the first commercially available telepathology solution in the United States. This solution, first implemented by the US Department of Veterans Affairs in 1995 and ultimately adopted as their national Telepathology Diagnostic Network, is still in use today. In 2006, Apollo's management addressed the need for a comprehensive digital pathology PACS solution with PathPACS®. As the premier provider of cutting edge Pathology PACS, Apollo has continuously laboratory healthcare professionals to service patients quickly, adeptly, and efficiently.
In 2009, Apollo introduced Apollo EPMM® (Enterprise Patient Multimedia Manager), an enterprise solution that provides clinical workflow and secure access and management of all clinical multimedia content across the enterprise. Apollo EPMM brought a clinically-built and -focused Vendor Neutral Archive (VNA) solution to the market.
Through 2016, Apollo added specialty-specific workflows for over 40 non-DICOM specialties to its capabilities. During this time, Apollo connected its solution set with the major EMR's (Epic, Cerner, and Allscripts) at multiple customers throughout the US and Canada.
At RSNA 2017, Apollo launched its next generation VNA and clinical application suite, arcc (Apollo repository for clinical content), which addresses all DICOM & non-DICOM specialty-specific workflows used in acute and ambulatory care settings. arcc is the most advanced referenceable enterprise imaging and management solution available in the market today. The arcc solution provides the clinical workflows for secure access and management of all clinical multimedia content across the enterprise. Apollo solutions are in use at leading academic centers, regional medical networks, commercial laboratories, and community hospitals throughout the US and Canada.